Today, more businesses are beginning to require their employees to wear identification cards when entering the workplace.  Many managers have made this decision as a way to further create a safe work environment.  These identification cards are effective in identifying employees and in determining what employees have access to what facilities.
Identification cards play an important role in the workplace and therefore must be carefully designed in order to get the most out of them.  The following components should be considered when designing an ID for your company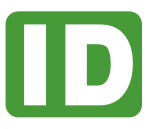 1.Card material and features: Since employees will be required to use their IDs daily, it is very important to determine the correct material to make them with.  Many companies decide to go with plastic cards because of their high quality and durability. Second, you have the option of making your ID card single-sided or double-sided.  If you will be putting a lot of information on the cards, then it is suggested that you go with the double-sided option.  Finally, you need to determine if you would like to add any other security features including holograms, magnetic stripes, and barcodes.
2. Practical design: Remember that this ID card is not only used for identifying your employees, but it also serves as a representation of your business. You want to create a design that is attractive yet practical.  For example, take a look at the color palette you choose.  You may want to pick colors that go with your company or designate colors for the various positions/ranks that your employees hold.
3. Company logo: Your employee IDs are a representation of your company.  In order to better to do so, many managers decide that they want their company logo to be featured on their IDs.  When placing your company logo on your design always make sure that the colors and fonts are consistent with the logo that is featured in any other business materials.  If you are concerned about possible forgery, you can always add a holographic overlay that can only be seen at particular angles.
4. Employee photo: The most common feature on an employee ID is a photo of the employee.  Including a photo will help impersonation by ensuring that the right person is carrying the right ID.  This is already commonly seen with driver's licenses, passports, and other government issued IDs.  When taking pictures of your employees, always make sure they are appropriate for once again they will be a representation of your company.
5. Personal employee information: Make sure to always include the employee's name and job title on their badge.  This will make it easier for other employees as well as customers to be able to identify who they are working with.  Depending on how much space you have you are free to add any other employee information. Though, it is advised that you only put down information that serves a purpose. Perhaps you may want to add your company's mission statement; this can help promote company unity as well as serve as a great marketing tool.